With the

expertise

and certifications of our CISO's, you can gain specialist advice and guidance to weather the security climate of today at a fraction of the cost of a full-time CISO.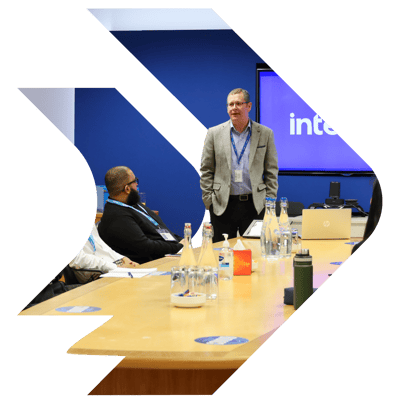 Unsure if you need a CISO?
If your business is an SME, you may not have the budget or the need for a full-time Chief Information Security Officer (CISO). However, the specialist insight and security integration a CISO gives is integral to protecting your business in today's climate where on average there are over 1,130 cyberattacks a week, and that's only per organisation (Check Point, 2023 Cyber Security Report).
If you're looking to try before you buy, or just need a CISO on a consultancy basis, that's what our CISO as a Service is here for. They're not on the payroll, they're simply here to aid your business to not only Do More with its security, but do it better.
BENEFITS OF OUR APPROACH
Before making any recommendations, our specialists immerse themselves in your current IT and data estate. Once we know your business and your goals, we'll deliver a custom built cloud strategy.
The result - we take the risk out of cloud migration and empower your people to Do More.
Leave risky business to the movies
A CISO can help you identify, assess, and manage security risks more effectively. By implementing robust security controls and processes, the CISO can mitigate risks and minimise the impact of security incidents.
Compliance is a virtue
Compliance with laws, regulations, and industry standards is essential for most businesses in the UK. A CISO can help ensure that you're complying with all relevant requirements, reducing the risk of penalties, fines, and legal action so you can focus on more strategic goals.
Hold others accountable
Our CISO's can educate employees and other stakeholders, such as your supply chain, about the importance of security and how to protect sensitive information. This can help transform your business with a culture of focused security and increased awareness of potential threats.
Enhance incidence response time
In the event of a security breach or incident, our CISO as a Service can step in to expertly lead the incident response effort, coordinating with internal teams, external vendors, and law enforcement as needed. They've done it before, and with this experience they can help minimise the damage and ensure a timely and effective response.
Improve your reputation
When you're able to reassure your customers and partners that their information is being protected, and that you're working to the National Cyber Security Centre's (NCSC) best practice as guided by our CISO and Cyber Assessment Framework, you'll help build and protect your relationships.