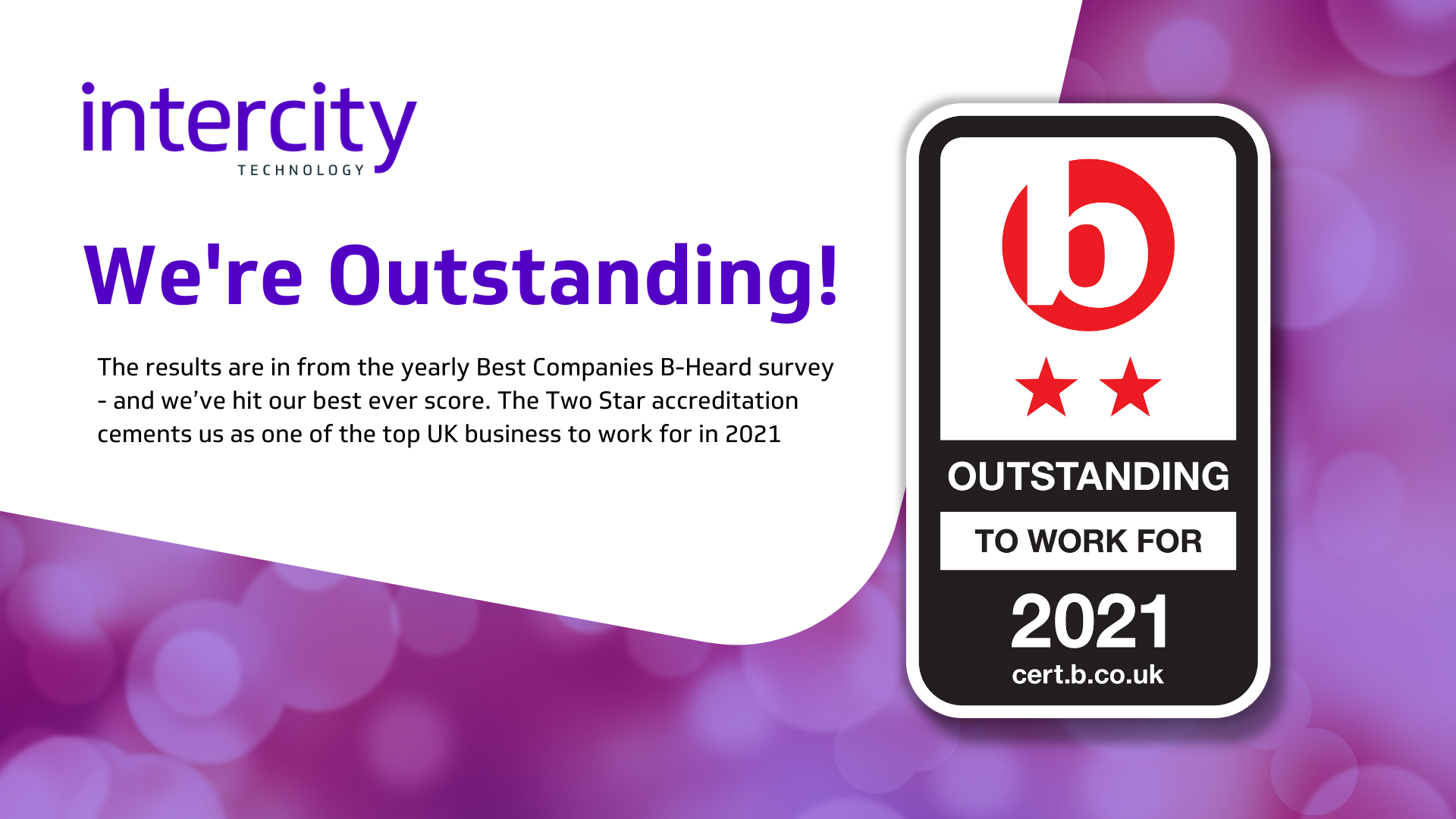 It's easy to think products or services are the most important thing your business has to offer – but without its people, most businesses would grind to a resounding halt. That's why people are at the heart of everything we do at Intercity Technology, because we know just how incredible our colleagues are. As a result, we're incredibly pleased to announce that this year, in the midst of the COVID pandemic, we've been awarded a Best Companies 2* Award.
Announced today, the award is the second highest standard of workplace engagement and builds on the 1 Star Accreditation we received last year, which saw the business also named as one of the Top 75 companies to work for in the Midlands.
What is Best Companies?
Best Companies to Work For Lists and Best Companies Accreditation are recognised as the standard in workplace engagement. An independent body, they award accreditation based on the unique BCI score generated by an internal 'b-Heard survey'. The BCI score is graded on a fixed scale of 0 - 1000 and if high enough, you will receive either a 'One to Watch' status, or 1 – 3 Star accreditation. The survey is anonymous and gives key insights into exactly how colleagues feel about their organisation.
So, about that 2*…
So that 2* represents the second best accreditation a business can receive from Best Companies. A 2 Star Accreditation is achieved with a BCI score of over 696.5, and represents 'Outstanding' levels of Workplace Engagement – but we'll let you in on a little secret, A 3 Star Accreditation is achieved with a BCI score of over 738 and ours was 737.5! Yes, that means we were only half a point off hitting that 3 * accreditation – looks like that's the goal for next year!
How did you do it?
The Best Companies award highlights the advances we've made to our colleague development programmes and engagement strategy over the past year and also acknowledges the adaptations made during the pandemic to ensure the continuation of support for colleagues and partners.
Over the past twelve months, we've introduced an Employee Assistance Programme (EAP), which includes unlimited counselling and the creation of a wellbeing portal, to ensure colleagues had additional support available to them throughout the pandemic. The EAP was further bolstered by the delivery of wellbeing workshops, virtual training sessions and outdoor activities to encourage a healthy work/life balance whilst working remotely.
Intercity's people-first focus also extends to our support of the local community. We recently partnered with Wowdot CIC to provide internet connectivity to children across Birmingham and the West Midlands who were experiencing digital poverty. Alongside new initiatives, colleagues also continued to deliver work experience opportunities, albeit virtually, in partnership with Ahead Partnerships, to support the continued development of young people across the region. Much of this was spearheaded by out fantastic People Team and none of us were surprised to see it coincide with Christina Pendletons promotion to the Intercity board
This, paired with much of the work we already do in terms of career progression, social events and wellbeing initiatives has seen us awarded our highest achievement to date.
About the achievement, Andrew Jackson, CEO had this to say:
"The awarding of the 2 Star Accreditation is a testament and acknowledgement of the fantastic work and efforts the Intercity team has delivered over the past twelve months and the value we place on our colleagues. I've been incredibly impressed by how the whole business has come together to support colleagues as well as our customers during what has been an extremely challenging year for everyone.
"As part of our vision to be known as the best technology partner to work for and with, we not only have some fantastic talent right across the business but also have developed some exciting initiatives to support that talent. From our Management Academy and CPD workshops, to colleague recognition schemes and an adapted approach to our community outreach programmes, we have continued to provide development opportunities to our colleagues during this time. Through initiatives like these and clear company objectives through our integrated business plan, we have ensured that not only do our colleagues live and breathe our company vision but also have the tools available to them to support their own continued personal and professional development."
What does it mean to you?
Not only do we aspire to be the best tech company to work with – we also want to be the best tech company to work for, and this result takes us another step closer to that goal. Our continued growth means that we're always looking for talented individuals to join the business.
It's an amazing achievement and we can't thank our colleagues enough for the tireless work that they continue to put in despite the challenges facing everyone currently. To learn more about Intercity, and how you can be a part of something great, click here to see our careers page.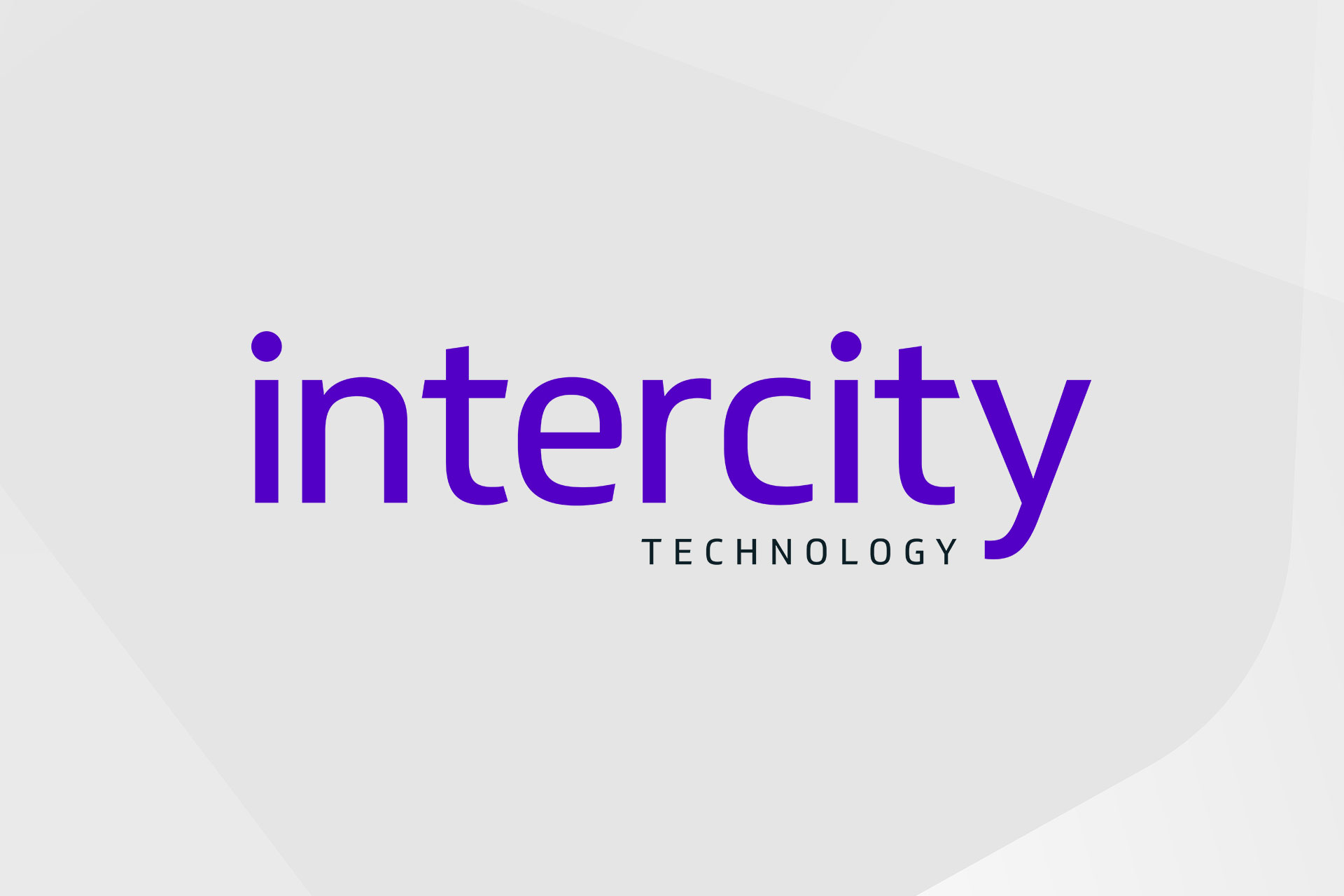 When you hear the phrase 'Women in Tech', it's easy to assume that you must look towards becoming an engineer, a developer or something hands-on 'techy'. But what if we told you that that wasn't the...
Read more